SO, ARE THERE ANY QUESTIONS ??
"Let me get this straight!  The democrats' socialist national health care plan is a 1,000 page bill that was dreamed of for 20 years by a man who is now dead (Kennedy), is being implemented by party leadership that apparently can't read and understand the limits of federal power as defined by the Constitution (Pelosi & Reid), was written by lobbyists who profit from their own plan (Big Pharma), which was put together by a congressional committee whose head says he doesn't understand the legislation (Baucus), to be passed by a Congress that hasn't read it, whose members will be exempt from it, signed by a president who doesn't need it or use it (Obama), funded by a treasury chief who did not pay his taxes (Geithner), that are raised in committee by a man who can't remember what he made, how much he made, or where or when he made it (Rangel), overseen by an obese surgeon general (Benjamin) that can't run 1 mile, financed by a banker that loots the Treasury and then "runs out the currency" (Bernanke) to "bail-out" (don't you mean enrich) his cronies, in a country that is in fact bankrupt because of the use of his fiat money (federal reserve notes), in a system where doctors can be sued for tens of millions of dollars on a whim (no tort reform), by wealthy attorneys working for the lion's share of the extorted settlements, at an initially estimated over-all program cost of one trillion dollars that is sure, as a government program, to at least triple over the next ten years. 
So, WHAT COULD POSSIBLY GO WRONG ?"
DO YOU MEAN, BESIDES EVERYTHING ???
<![if !vml]>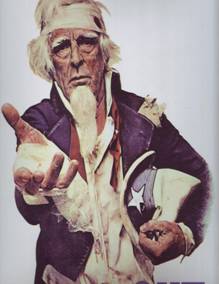 <![endif]>
I NEED A BAIL OUT !
PLEASE SAVE ME FROM THE BANKERS !
And, if the insurance companies deny treatment, can we still sue them in federal court, or are they now indemnified under the new legislation from suits at law for denying treatment ?  Since they wrote the legislation, shouldn't somebody check ?