FIRST THEY LOOTED THE TREASURY !
NOW, THEY ARE RUNNING IT OUT !
YOUR GOVERNMENT has gone completely INSANE !    The private corporation, fraudulently known as the Federal Reserve Bank, is TAKING OVER the American government, in its entirety, directing its every action !  You do know that Treasury Secretary Tim Geithner came from the Federal Reserve Bank in New York and is now running the U.S. Treasury in cahoots with Bernanke at the FED?  Representing the BANKERS instead of the American People with their insane elitist policies.  And the first thing they did ONCE THEY SEIZED CONTROL OF THE GOVERNMENT was LOOT THE TREASURY of ten trillion dollars which they passed out amongst themselves, the BANK(ST)ERS !
Just as Thomas Jefferson warned, "acting by command and in phalanx", the BANKERS have seized control of our government:
"[The] Bank of the United States [now the Federal Reserve Bank – Ed.] ... is one of the most deadly hostility existing, against the principles and form of our Constitution ... An institution like this, penetrating by its branches every part of the Union, acting by command and in phalanx, may, in a critical moment, upset the government.   I deem no government safe which is under the vassalage of any self-constituted authorities, or any other authority than that of the nation, or its regular functionaries" .... "I believe that banking institutions are more dangerous to our liberties than standing armies,  and that the principle of spending money to be paid by posterity ... is but swindling futurity on a large scale." – Thomas Jefferson
Using this so called credit "CRISIS" –  THAT THE FED ITSELF ENGINEERED, through the misuse and abuse of its monopoly on currency and credit,  as the excuse to justify its actions in taking over the government ! 
"Everything predicted by the enemies of banks, in the beginning, is now coming to pass. We are to be ruined now by the deluge of bank paper.  It is cruel that such revolutions in private fortunes should be at the mercy of avaricious adventurers, who, instead of employing their capital, if any they have, in manufactures, commerce, and other useful pursuits, make it an instrument to burden all the interchanges of property with their swindling profits, profits which are the price of no useful industry of theirs." – Thomas Jefferson
How many stupid billionaires/millionaires are We The People supposed to bail out, or SERVE AS PEONS TO ?  
Is a "BAIL OUT" really what is going on ?   OR, is there something fundamentally much more basically corrupt that is actually occurring (read COUP)?
TEN TRILLION SO FAR, AND COUNTING, FOR 22 PROGRAMS (and a bunch of companies).
HERE's the list, SO FAR !   Whatthefuck!
Troubled Asset Relief Program (TARP)
Troubled Asset Insurance Finance Fund
Capital Purchase Program (CPP)
Temporary Guarantee Program For Money
Term Asset-Backed Security Loan Facility
Commercial Paper Funding Facility (CPFF)
Money Market Investor Funding Facility
Asset backed Commercial Paper Money Market Fund
Central Bank Swap Lines
Primary Deal Credit Facility
Term Securities Lending Facility (TSLF)
Term Securities Lending Facility Option Program
Term Auction Facility (TAF)
Term Discount Window Program
Loss Sharing Proposal to Promote Loan Money
Temporary Liquidity Guarantee Program
Direct Purchase of MBS and Direct Obligations
Direct Purchase of Fannie/Freddie MBS  (mortgage backed securities)
NOW THIS  IS  RIDICULOUS  !!
Fannie MAE (34 of 200 B promised)
Freddie MAC (55 of 200 B promised)
AIG (180 B)
Citigroup (45 B)
Goldman Sachs (10 B)
JP Morgan (25 B)
Bank of America /Merrill Lynch (45 B)
Morgan Stanley (10 B)
Wells Fargo (25 B)
PNC Financial (7.5 B)
U.S. Bancorp (6.6 B)
Sun Trust (4.9 B)
Capitol One (3.5 B)
GMAC (5 B),
Chrysler
BB&T
B= billion
AND COUNTING !
AND ALL THESE OTHER IDIOTS TOO!
IS IT REALLY A BAIL-OUT?
OR IS IT REALLY A TAKE-OVER?
OR ARE THEY JUST FEEDING AT THE TROUGH,
Or, JUST TRYING TO SAVE THEIR OWN ASSES
FROM POLITICAL EXTERMINATION ?
OR IS IT ALL OF THE ABOVE?
MY GOD PEOPLE !
They're stealing trillions of dollars from us !
THEY ARE LOOTING THE TREASURY !
AND NOW THEY ARE RUNNING IT OUT,
TO KEEP THE THIEVES AND IDIOTS IN BUSINESS
(BANKSTERS & POLITICIANS)
and We The People
UNDER THE "CHAINS OF PEONAGE"
THAT KEEP YOUR "WAGES" UNDER THEIR "CONTROL",
WHILE WE PAY USURY EFFECTING OUR OWN ENSLAVEMENT,
AND THEIR CONTINUED ENRICHMENT AND CONTROL  !
"If you want to continue to be slaves of the banks and pay the cost of your own slavery (and enslavement), then let the bankers continue to create money and control credit." - Sir Josiah Stamp

"Once a nation parts with control of its credit (and currency), it matters not who makes the nations laws ... Usury, once in control will wreck any nation." - William Lyon Mackenzie King
This is not a bailout.  This is a coup.  This is not the government bailing out the banks.  This is the Federal Reserve Bank infiltrating and seizing control of our government, and directing the government's actions for the benefit of the bank and bankers, JUST AS IT WAS PREDICTED BY THOMAS JEFFERSON, AT OUR EXPENSE, and at the expense of America's future generations, the value of our dollar, and the solvency of the nation and its people.  
We the People, have just had transferred to us ALL OF THE TOXIC DEBTS from all of the corrupt, greedy, fraudulent, inappropriate lending practices perpetrated by the bankers over the last ten decades.  They commit the crimes and conspire to effect the fraud, and WE The PEOPLE, GET ALL THE RESULTANT DEBT OBLIGATIONS, while they lose NOTHING, NOT their companies, not their jobs, not their salaries, not their past bonuses, and not their homes (first & second), nothing.  What have you lost?
But again, Congress is not bailing out the banks, they are betraying the American People to save their own asses !  To save their own asses, and jobs, and positions as members of the global, ruling, "political elite".  The members of Congress know that without the so-called "bail-out", the global economic meltdown would be unimaginably enormous, unstoppable, and catastrophic, that, like a chain of dominoes once started, without outside interference, can never be stopped.  With each new collapse cascading into another until every mortgage bank, investment banking house, and central bank operation on the planet imploded and was completely exposed as the complete and total fraud that they are now known to have all been from the beginning.
"If the American people ever allow private banks to control the issue of their money, first by inflation and then by deflation, the banks and corporations that will grow up around them, will deprive the people of their property until their children will wake up homeless on the continent their fathers conquered." – Tomas Jefferson
Without improper, nationalization "interference" being run for the bankers by Congress through the delivery of a "bail-out" package, the Dow Jones Industrial Average would already be at or below 2000, the fiat paper economic collapse would be complete and total, and every Congressman in America would be out of their job within 2 years for letting the bankers run the scam for so long, save one, Ron Paul.  Every Senator would be gone within 6 years, and a new crop of politicians would be elected in their place to restore America to her proper state as a constitutional Republic.  Congress knows that if the true, full extent of the financial fraud that has been perpetrated on the American People over the last 95 years were allowed to be known by letting the markets take their natural course (and collapsing to expose the fraud), they would ALL LOSE THEIR JOBS IN THE VERY NEXT ELECTION.  So, to try and prevent (or at least delay) this from happening, they have decided that the true full extent of the global financial fraud across the planet must be covered up at any cost.  Even at the cost of enslaving the American people to the needs of the foreign (collapsing) nations, to service the debts incurred to prop up those failing allied European socialist states (AIG's foreign corporate insurance obligations being unconstitutionally passed to the U.S. taxpayers). 
The U.S. government has sold out the American People, "down the river", as it were, in order to salvage and maintain its position of pre-eminence in the socialist global ruling alliance.  The betrayed American People are to be left on their own to service the never-ending, ever-expanding collective national debts incurred and left to future peoples and generations to service forever, because by the nature of the system,  they can never be repaid with the agreed interest, resultant from the government's attempts to effect a socialist America in a "ruled" world.
"The issue today is the same as it has been throughout all history, whether man shall be allowed to govern himself or be ruled by a small elite."  (Politicians in cahoots with Central Bankers) – Thomas Jefferson
CONGRESS JUST GAVE TEN TRILLION DOLLARS TO 1,000 MEN  !
Which way are we going ?
HAVE YOU HAD ENOUGH YET ?   I KNOW I HAVE !!!
THESE BANKSTERS ARE CANNIBALS. 
THEY PREFER TO CONSUME THE CHILDREN OF THE FUTURE
WITH DEBT, RATHER THAN DO ANY HONEST WORK TODAY !
<![if !vml]>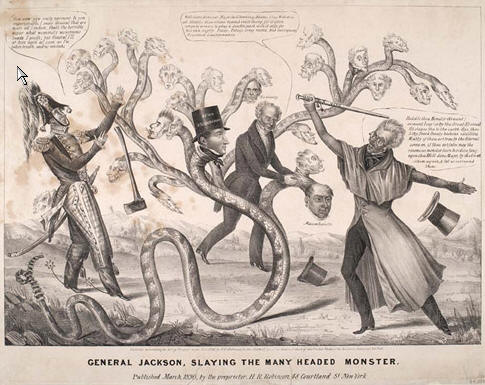 <![endif]>
We KILLED this BEAST (the bank) before !
WE SHOULD NOW DO IT AGAIN !!!!  
ALL OF THIS SOCIALIST TYRANNY IS ONLY POSSIBLE BECAUSE YOU LET THEM STEAL YOUR MONEY (income) TO PAY FOR THE SOCIALIST STATE !  
STOP PAYING FOR IT, and they will not be able to "screw" you any longer.  If you won't let them just steal the fruits of your labors from you and take from the mouth of labor the bread it has earned, to do what they want with it, instead of what you want done with it, then they will have to represent you to stay in office!  Because they can steal from you, they do not feel like they have to represent you any more, and therefore they sell their services to the corporations for the highest bid.
So the corporations are being represented just fine, AS WE CAN SEE FROM THE LIST ABOVE !
BUT, HOW DO YOU FEEL ABOUT YOUR REPRESENTATION !
Thomas Jefferson sure knew what he was talking about !!