<![if !vml]>

<![endif]>
May FILE NO RETURN
Can Lawfully  PAY NO TAX ON YOUR OWN INCOME
And NEVER GO TO JAIL
After all, THAT'S the AMERICAN WAY !
The Constitution absolutely prohibits the government from demanding money from you, a citizen, as tax!  IT CANNOT BE DONE, even after the 16th Amendment! 
UNDER THE CONSTITUTION AND THE WRITTEN LAW, THERE IS NO DIRECT TAXATION OF THE PEOPLE, AND NO PENALIZING OR PROSECUTING THE CITIZENS OVER A FAILURE TO PAY TAX ON THEIR OWN INCOME, or to REPORT such on a Form 1040.   THAT'S STILL UNCONSTITUTIONAL.  Don't let them lie to you.
The TOTALLY FRAUDULENT NATURE of the  I.R.S. TAX COLLECTION ENFORCEMENT OPERATION is herein EXPOSED by this website (Tax-Freedom.com) AS A COMPLETE FRAUD, perpetrated UNDER COLOR OF LAW through EXTORTION UNDER COLOR OF OFFICE committed unlawfully by I.R.S. employees IN NAME OF TAX ONLY.
THE IRS FRAUD IS COMPLETELY DEFEATED !
ALL YOU NEED TO BE FREED IS TO READ !
GIVE ME ONE HOUR TO TEACH YOU THE TRUTH,
and I will change your LIFE, forever.
Then together,
WE WILL CHANGE THE NATION BACK TO WHAT IT WAS INTENDED TO BE UNDER THE CONSTITUTION,
A FREE COUNTRY !
NOT THIS FEDERAL SLAVE STATE currently
run under the Communist Manifesto !
Where the People and their progeny have been cast into a state of virtual peonage to service the unconstitutional, never-ending, ever-growing federal debts, forever.
THOMAS JEFFERSON SAID:
"Every generation needs a new revolution."
"God forbid we should ever be twenty years without such a rebellion. The people cannot be all, and always, well informed. The part which is wrong will be discontented, in proportion to the importance of the facts they misconceive. If they remain quiet under such misconceptions, it is lethargy, the forerunner of death to the public liberty."
"What country before ever existed a century and a half without a rebellion?  And what country can preserve its liberties if their rulers are not warned from time to time that their people preserve the spirit of resistance?  Let them take arms.  The remedy is to set them right as to facts, pardon and pacify them. What signify a few lives lost in a century or two? The tree of liberty must be refreshed from time to time with the blood of patriots and tyrants. It is its natural manure."
"The mass of mankind has not been born with saddles on their backs, nor a favored few booted and spurred, ready to ride them legitimately, by the grace of God."
THOMAS JEFFERSON
<![if !vml]>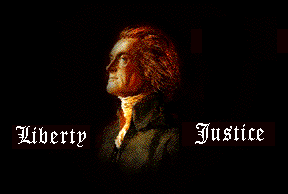 <![endif]>
LET FREEDOM REIGN !